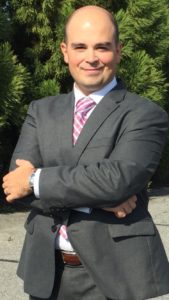 From the time that I was a young kid I have always been a visual storyteller. Whether it was making dioramas for an elementary school Aztec project or making a video for an explorers project, I have always believed that messages are best delivered visually.
I don't know how many times growing up I heard my dad say, "that camera isn't a toy!" To me it was a toy! For much of my childhood I had a video camera in my hands making videos out of our travels. Many times I would play music on my portable CD player while shooting video to kick the production quality up a notch!
This continues to this day, just ask my friends about having a GoPro shoved in their faces on crabbing and fishing trips.
I studied journalism and business in college and continued making videos the whole way through. I interned at a local TV station while I was in school and managed to weasel my way on air. As the story goes, I went to cover the Philadelphia Eagle's training camp with one of the staff photojournalists. When we made it back to the station I showed the guys in the sports department the story that I had put together even though they hadn't asked for it. As luck would have it, they decided to let this bald headed intern make his television debut.
After that I wound up working in TV as a photojournalist for years, honing my craft of storytelling along the way. My time in TV came to an end when the 2:00 a.m. wakeup calls and endless snowy live shots got the better of me, I decided to make a career switch.
I moved into a marketing and advertising role working with area business owners. In this position we worked with clients on everything from print ads to website builds and so on. I loved working with business owners to help make the best use of their marketing budgets. In 2017 I was the only local territory representative on a team of 12 to be named to our organization's President's Club, a recognition for sales success for the previous year.
Through all of this, Lake View Visual was born. This company is the perfect marriage of my storytelling background with a commitment to helping business owners tell stories that improve business operations, push brands forward and drive revenue.
I hope that you will trust me to tell your company or organization's story with video!